You may choose between paying by the stitch or paying a flat fee based on overall stitch count. We will bill you accordingly.
Digitizing Price Information
. We charge US$2.5 per 1,000 stitches
. No minimum charge
. Maximum Charge US$130.00
. Free quotes
. Free format conversions
. Free editing in most, if not all cases, until you are satisfied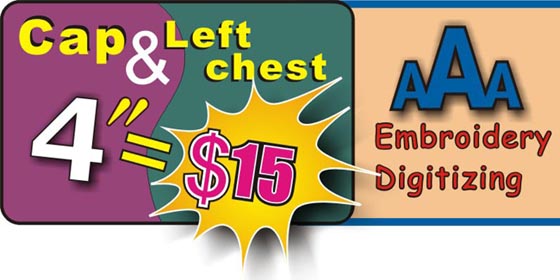 customer Special price: $2.0/1000stitch,You should transfer us $3,000 as down payment at first, then you will be VIP customer. After we finished $3,000 of digitizing for you, then you will down pay us other $3,000
Editing:
Currently , We do our best to make each design perfect before sending it to you. However, the reality is that a small percentage of designs may have a flaw, or you may decide that you need a small change made to the design. For simple edit , like remove some text, enlarge or decrease size a bit , we won't charge ,
For more complicated edit, like add some text , enlarge or decrease size which is far from original size ,which will cause more complicated work, we charge $1/1kst ,
For the most complicated edits, like replacing parts of a design, or if there are new parts to be added to the design, we charge $2.5/1K but for only the newly edited or added parts
Vector Artwork Services
¡¤? Free Quotes
¡¤? High Quality
¡¤? Quick Turnaround
¡¤? Pricing:
$15 - Flat Rate for most files to be converted.
$20-30 - a) If artwork is complicated with imperfections such as blurriness.
b) If artwork requires Layout changes, such as, moving objects or changing text.
c) Extremely complicated artwork requiring more than 3 hours.
Image Editing

¡¤? $15 per hour
---------------------------------------------------------------------------------------------------------------------------------------------------
Our Mission
To be the world's best and fastest embroidery digitizing company with a very affordable price.


Customer Satisfaction
All we do revolves around the needs, interests, and desires of our customers. Customer satisfaction is guaranteed.


Technology
Creating high-value designs and services with the best technology available.